Veterinary Anesthesia Machines
Veterinary Anesthesia Machines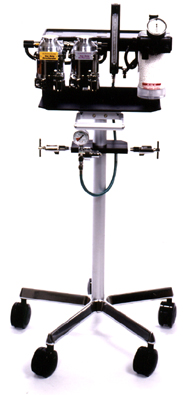 For affordable options in veterinary anesthesia machines, trust the business that has been offering the highest quality used and refurbished veterinary equipment options for over 30 years. We strive to provide the best possible purchasing and selling experiences because our focus is on our relationships with our customers and business partners, as well as delivering superior products at exceptional prices. We have a variety of offerings for used veterinary equipment, including veterinary anesthesia machines. Our list of inventory is kept live according to the stock on hand, but we also specialize in finding certain items that meet your specific requirements.
Some of our offerings include our own line of new veterinary equipment, such as new table top anesthesia machines, veterinary endoscopes, otoscopes, and other items. We also offer quality used cages, kennels, transport gurneys, laboratory equipment, autoclaves, monitoring, pet carriers, and much more. We often have complete inventory from veterinary facility closures, including all the veterinary equipment you could imagine available for purchase. By purchasing used from a reputable company such as ours, you will be lowering your operation costs and increasing your revenue opportunities. This equipment will give you the ability to offer procedures that may not typically be financially profitable with high-priced alternatives.
Your peace of mind is important to us, which is why we offer added assurances with our 90-day warranty for parts and labor on refurbished veterinary equipment. You can also rest assured knowing that your items will come with a user manual, required accessories, and service plans as needed. We also provide extensive repairs by experienced technicians for many types of endoscopy repairs, using OEM replacement parts when possible. If these parts are not available for any reason, we will only use the highest quality parts available. Our Certified Bio-Medical Technicians also perform repairs and refurbishing on many other types of used veterinary equipment. We want you to have exceptional customer service through our company from the start of your equipment search through the lifetime of your products.
Our company is pleased that you are considering purchasing your veterinary anesthesia machines, veterinary supplies, and/or other veterinary equipment from us because we are confident that we will exceed your expectations for quality equipment at prices that fit your budget. Feel free to browse our site, request quotes, and contact us here with any questions. You can also reach us at (909) 980-2452 or toll-free at (800) 999-2452. When you are ready to make the investment, you have the option of purchasing from our secure website, or paying with a company or personal check, cashiers check, or money order. We also accept all major credit cards and wire transfers. Typically, payment is due at the time of placing your order or at delivery. We also work with several leasing companies that may be able to arrange financing. If you are a Will-Call customer who is planning to pick your order up at our showroom, we will accept any form of payment, including cash. We are located at 11149 Arrow Route, Rancho Cucamonga, CA, 91730.